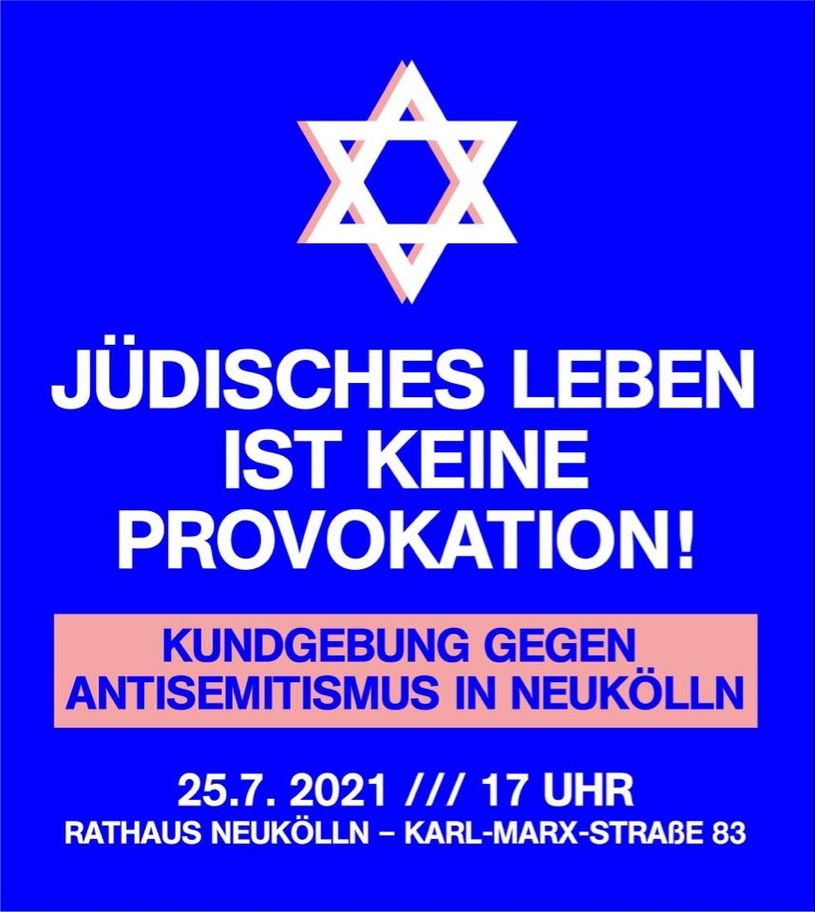 We the Neukölln Alliance Against Anti-Semitism invite you to join our rally at Rathaus Neukölln:
Jewish Life Is Not a Provocation!
Rally against Anti-Semitism in Berlin-Neukölln, July 25, 2021
When: July, 25, starting at 5.00 p.m.
Where: Rathaus Neukölln, Karl-Marx-Straße 83, Berlin-Neukölln
In Berlin, and in Neukölln in particular, the public appearance of Jews may arouse suspicion. If you reveal yourself as being Jewish, you may be insulted as a "Zionist," or even as a "racist," unless you quickly condemn Israeli politics (that is, condemn the very existence of the state of Israel). In Neukölln, one of the most multicultural districts of Berlin, priding itself upon open-mindedness and tolerance, you can wave any flag or exhibit any symbol — except for the star of David. Sadly enough, we got used to these conditions and, if only grudgingly, accepted them: Jews should rather maintain a low profile here.
Only recently, a protest march supporting the "Palestinian people in Jerusalem" turned into a fierce hate rally with people accusing Israel of murdering children and chanting "Jews, remember Khaybar, the army of Muhammad is returning" (referring to Muhammad's 628 campaign against the Jewish population of Khaybar in present-day Saudi Arabia). Religious resentment to Jews, sadly a quite significant part of islamic heritage to this day, is blended with modern European anti-Semitism depicting Jews as the root of all evil.
We are no longer willing to accept what has become almost normal here in Neukölln. Jewish life is not a provocation!
With a rally in front of the city hall (Rathaus Neukölln) on Sunday, July 25, 2021, we want to raise our voices and speak out against antisemitism in the streets of Neukölln. Along with politicians and citizens, with both Jewish and non-Jewish activists, we want to clearly express our solidarity with Jews here in Neukölln and anywhere in the world. The newly formed Neukölln Alliance Against Anti-Semitism is inviting everyone to stand up against Anti-Semitism of any kind, including the one posing as Antiracism or love for peace.
The rally will take place on Sunday, July 25, 2021, starting at 5 pm in front of the city hall of Neukölln (Rathaus Neukölln) Planning with a duration of 3 hours, there will be an additional musical program - details coming soon.
Concerning the security of people arriving, staying and leaving the rally, all steps are taken to guarantee the best protection possible. Therefore we work closely with the police and administration. Additionally, all measures taken to face and prevent COVID-19-Infections are met - including a limited number of 300 participants. We therefore request all participants to consider the persisting pandemic situation.
Speakers:
Yaki Lopez, Leiter der Abteilung Öffentlichkeitsarbeit der Botschaft des Staates Israel in Deutschland
Martin Hikel, Bezirksbürgermeister Neukölln
Sigmount A. Königsberg, Jüdische Gemeinde zu Berlin
André Wartmann, Antisemitismus-Beauftragter des Bezirksamtes Berlin-Lichtenberg
Ruben Gerczikow, European Union of Jewish Students (EUJS)
Jörg Rensmann, Mideast Freedom Forum Berlin
Abdel-Hakim Ourghi, Professor für Islamische Theologie
Michaela Engelmeier, Generalsekretärin der Deutsch-Israelischen Gesellschaft (DIG)
Volker Beck, MdB a.D. / Tikvah Institut gUG
Rebecca Schönenbach, Frauen für Freiheit
Fatma Keser, Migrantinnen für Säkularität und Selbstbestimmung
Kazem Moussavi, Green Party of Iran
Ben Salomo, Rapper / Jewish-Rights Activist