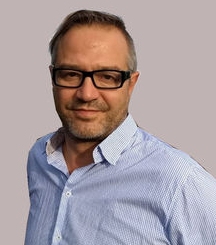 Executive Director Mideast Freedom Forum Berlin
Michael Spaney is Association Chairman and Executive Director of the Mideast Freedom Forum Berlin since 2008. Michael Spaney heads the MFFB's political consultancy department and advises politicians and government officials. He designs policy papers, international conferences, public lecture series, and seminars, and gives lectures on German-Israeli relations, current Israeli politics, the history of Israel and the Middle East conflict and on Iran and its nuclear program.
Before joining the MFFB, he worked as a television journalist and as a director and dramaturge at various German theaters. He studied English as well as theater, film and television studies in Berlin.

Contact:

Telephone: +49 30 209 95 852
Mail: spaney@mideastfreedomforum.org
Publications
Interview: "There is no Anti-Zionism without antisemitism." Interview with Michael Spaney, Ulrike Becker and Philip Schaper of the Mideast Freedom Forum on Belltower News, Jan. 3, 2023.
Together with Ulrike Becker, Michael Spaney wrote a contribution to the "Workshop Arab-Islamic Antisemitism," which took place in the fall of 2022 at the symposium "Current manifestations and challenges of anti-Semitism," organized by the Erich Zeigner Haus in Leipzig.
In 2020, he published the German article "The Middle East Conflict: Distorted Images, Myths and Facts" in Julia Bernstein: Antisemitism at Schools in Germany. Findings - Analyzes - Options for Action, Verlagsgruppe Beltz, Weinheim 2020.
Michael Spaney, together with the German-Israeli Friendship Association (DIG), published the German language booklets "Six Day War 1967. Causes, Course, Consequences." (March 2017) and "Boycott Movements against Israel. Objection with Information and Arguments. "(Nov. 2016).
Together with Jörg Rensmann, he is the editor of the English and German MFFB booklet "Educating the Next Generation – Changing of Palestinian Textbooks for Mutual Understanding" (May 2017).
On the subject of Iran he published, among other things, as a co-author with Ulrike Becker the German article "Siemens, Linde & Co." on German-Iranian trade in Stephan Grigat / Simone Hartmann: Iran im Weltsystem, Studienverlag, Vienna 2010.