The First Anti-Israel Campaign of the Post-War Period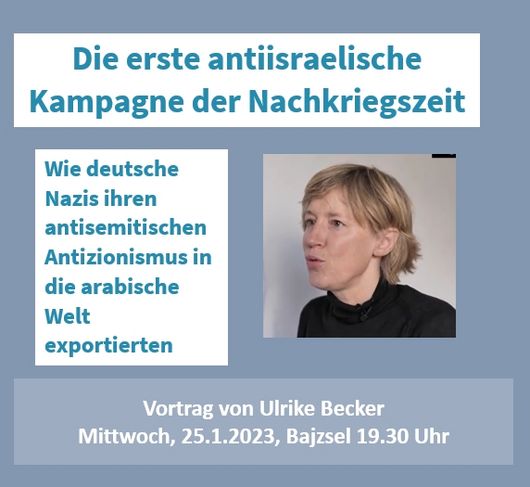 How German Nazis Exported Their Anti-Semitic Anti-Zionism to the Arab World
Lecture by Ulrike Becker (MFFB).
Event in German language
At the Bajszel, Emser Straße 8/9, 12051 Berlin. Start 7:30 p.m.
In 1952, the first German government under Konrad Adenauer decided to pay compensation to Israel. Protests against this plan quickly arose in Germany and in Arab countries. Arab and German actors organized a campaign aimed at preventing the ratification of the "Luxembourg Agreement" by the Bundestag and Bundesrat. Who were the actors, what role did old Nazi-era connections play, and what role did anti-Semitism play in this first postwar anti-Israel campaign?
Historian Ulrike Becker wrote her doctoral thesis on this topic and presents the results of her dissertation.